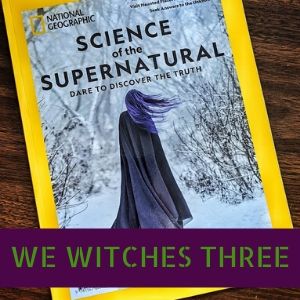 CONTENT WARNING: We discuss adult topics, including sex, so, listening discretion is advised.
The Witches take a look at the National Geographic special edition issue from December 2020 titled "Science of the Supernatural" - an issues all about the supernatural and paranormal world, from magic to the supernatural to psychic abilities to witchcraft to UFOs. We... get distracted a lot and there are definitely some tangents. If you want to hear what we think of the research quality on this edition while also getting an idea of how our conversations really go when we do our podcasts, then this a great episode to watch!
No references for this one.
Film Loader – Nicole Schalk
Unit Still Photography – Stephanie Carrell
Construction Coordinator – Trinity Lynne
Propmaster – Leah Patterson
Motion Control Technician – Gloria
Breakdown Artist – Jennifer L
Special Effects Supervisor – Annette Pederson
Telecine Colorist – Mari McRoberts
If you would like to support us please subscribe to a perk on our Patreon Page: https://www.patreon.com/wewitchesthree
Visit our website at http://www.WeWitchesThree.com
Facebook Group: https://www.facebook.com/groups/wewitchesthree